Disorderly Conduct Attorney
What is Disorderly Conduct?
In the State of Maryland, disorderly conduct or disturbing the peace is a misdemeanor criminal offense that covers a broad range of conduct that includes:
Making loud noises or playing loud music, especially during the nighttime or early morning hours
Disturbing the public peace
Fighting in a public place
Preventing others from traveling in areas which are open to the general public, such as a business
What are Some Defenses to Disorderly Conduct?
Insufficient proof
Insufficient warning
Mutual affray
Constitutional defenses
What is the Penalty for Disorderly Conduct?
Even though disorderly conduct is a misdemeanor criminal offense, a person who is charged with it should take it seriously because, if convicted, would be subject to a maximum penalty of up to 60 days of incarceration and/or a fine of up to $500.00. Any criminal conviction on your record, even for a misdemeanor offense, can have long-lasting effects on a person's ability to seek and maintain employment, possible immigration consequences, possible professional licensing consequences, and possible other collateral consequences.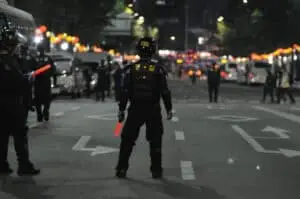 Under Maryland law, a person may not engage in what is known as disorderly conduct or what is sometimes referred to as disturbing the peace. Several different actions are considered to be criminal conduct under the relevant Maryland statute. See Md. Code Criminal Law 10-201. Disorderly conduct includes the willful and without lawful purpose obstruction or hindrance
Read More »
Contact a Disorderly Conduct Attorney
Contact an award-winning disorderly conduct attorney today if you or a loved one have been charged with disorderly conduct.  With an office located in the heart of Towson, Maryland, we serve folks throughout Baltimore County, Maryland and surrounding nearby areas.  We offer free phone or office consultations, and we offer jail consultations for a fee.  Please use the form below to contact us and someone from our office will reach back out to you.
keyboard_arrow_leftPrevious
Nextkeyboard_arrow_right