Early Termination of Probation
Circumstances may sometimes arise that make it appropriate to terminate a person's probation early or convert supervised probation to unsupervised probation. For example, a person who is placed on supervised probation for the sole purpose of paying restitution may be eligible to have his or her probation converted to unsupervised probation or terminated altogether once the restitution has been paid.
Modification of Probation Conditions
Probation often carries with it many standard conditions and some special conditions.  Following all of the conditions of probation can sometimes be extremely difficult or create a hardship on the probationer and his or her family.  Luckily, Md. Rule 4-346(b) allows for the modification of probation conditions at any time if the appropriate motion is filed with the court. 
Contact a Probation Attorney
With an office located in the heart of Towson, Maryland, we serve folks throughout Baltimore County, Maryland and surrounding nearby areas. We offer free phone or office consultations, and we offer jail consultations for a fee. Please use the form below to contact us and someone from our office will reach back out to you.
keyboard_arrow_leftPrevious
Nextkeyboard_arrow_right
Highest regard for The Law Office of Stephen P. Shepard. From the onset of contacting his office Steve went above and beyond offering compassion and understanding not only for the client but also for family members as well. His attention to detail, knowledge and representation is astounding. Steve is knowledgeable and truly values his clients. Words cannot express our gratitude for the service and support from you and your staff.
Steve truly puts everything he's got into his cases and works relentlessly to achieve the best possible outcome for his clients. I've been honored to not only have him represent me, but to be able to call him a friend. He's gone above and beyond for me and my family, offering compassion, practicality and understanding from day one. Steve won't sell you false hopes or fluff, instead, he delivers actions and results. He is very proficient and thorough, leaving no stone unturned while working side by side with you from start to finish. Steve is truly a one of a kind lawyer. His representation is premier, personalized and affordable. In my honest opinion, he is a text book example of satisfactory criminal defense.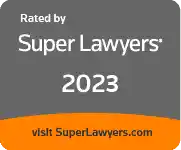 Super Lawyers "Rising Star" 2023 Honoree
Super Lawyers is a rating service of lawyers from more than 70 practice areas who have attained a high-degree of peer recognition and professional achievement. The patented selection process includes independent research, peer nominations, and peer evaluations. To read more about the Super Lawyers selection process, click here.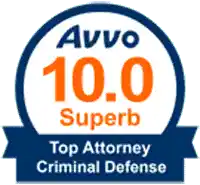 Avvo Rated 10.0 for Criminal Defense
Avvo is one of the leading attorney directory listing services on the web. Avvo has ratings, reviews, and disciplinary records for lawyers in nearly every state. Avvo rates attorneys using a model that considers information that the attorney has included on their profile in addition to the information that Avvo collects from state bar associations and other organizations that license legal professionals. To read more about the Avvo rating system, click here.