A stet is a special type of disposition or resolution of a criminal or serious traffic case pursuant to Md. Rule 4-248 in which the State's Attorney asks the court to mark a case as inactive or place it on what is sometimes referred to as the "stet docket" for three years, usually with one or more condition(s) attached to it being marked as inactive.
Under Md. Rule 4-248, only the State's Attorney may ask the court to mark a case as a stet. If the court grants the request, then the case becomes inactive for a period of three years. For the first year, either the Defendant or the State may ask the court to reopen the case for any reason whatsoever. Generally, if a case was marked as a stet with one or more condition(s), and the Defendant failed to abide by the condition(s), then the State would likely ask the court to reopen the case and set it in for a trial. After the first year, for the following two years, the case may only be reopened if a judge finds good cause (or a really good reason) to do so. After three years, the case cannot be reopened for any reason.
What is the Effect or Benefit of a Stet Disposition?
The primary and most important effect or benefit of a stet disposition is that it is not considered a conviction under Maryland law. Therefore, a case marked as a stet does not carry the same punishment and collateral consequences as a conviction likely would.
Another effect or benefit of a stet disposition is that, under most circumstances, a case marked as a stet may be expunged or removed from the Defendant's criminal record after three years.
When a case is marked as a stet, the Defendant keeps all of his or her trial rights except for one: The right to a speedy trial. Therefore, the Defendant must accept the stet and waive or give up his or her right to a speedy trial in order to receive a stet disposition. This simply means that, if the case is reopened, the Defendant cannot come back to court and complain that he or she was not brought in for trial in a timely manner.
Mr. Shepard is an awesome attorney! When I first was charged with theft, I was scared of what could happen to me. I called Mr. Shepard's office and he saw me on a Saturday for a free consultation. Speaking with him immediately put my nerves at ease. He was knowledgeable, compassionate, asked the right questions, and seemed to genuinely care about me and my case. I hired Mr. Shepard on the spot. Prior to my court date, Mr. Shepard kept me informed about my case and never left me in the dark. On my court date, my case ended up going to trial and it was clear that Mr. Shepard had done his homework and was well prepared because we won. I cannot thank Mr. Shepard enough for all he did to help me and I highly recommend him.
I enjoyed working with Mr Shepard, he always made it a point to keep me well informed about my case, took time to discuss details, and was prompt in his responses. He gave accurate information and made all the necessary contacts to get the job done. His attention to detail helped me immensely for my case. I highly recommend him, you will not be disappointed.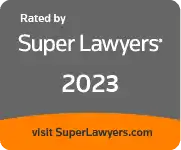 Super Lawyers "Rising Star" 2023 Honoree
Super Lawyers is a rating service of lawyers from more than 70 practice areas who have attained a high-degree of peer recognition and professional achievement. The patented selection process includes independent research, peer nominations, and peer evaluations. To read more about the Super Lawyers selection process, click here.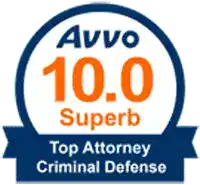 Avvo Rated 10.0 for Criminal Defense
Avvo is one of the leading attorney directory listing services on the web. Avvo has ratings, reviews, and disciplinary records for lawyers in nearly every state. Avvo rates attorneys using a model that considers information that the attorney has included on their profile in addition to the information that Avvo collects from state bar associations and other organizations that license legal professionals. To read more about the Avvo rating system, click here.