Trespassing on posted property is a misdemeanor criminal offense in Maryland in which a person willfully enters the property of another without permission and a sign was posted on the property in an obvious manner warning against unauthorized entry. If convicted of trespassing (for a first offense), a person is subject to a maximum penalty of up to 90 days of incarceration and/or a fine of up to $500.00. Subsequent trespassing convictions have higher possible maximum penalties depending on when the offense occurred in relation to the prior trespassing conviction. See Md. Code Ann. Criminal Law 6-402.
Conspicuousness of Posted Signs
To support a conviction for trespassing on posted property, a sign or other form of notice must have been posted in a conspicuous or obvious manner. While the precise wording of "no trespassing" or "trespassers forbidden" is not necessary, some form of reasonable notice prohibiting unauthorized entry must be present. See Monroe v. State, 51 Md. App. 661 (1982). In Monroe, the Court of Special Appeals held that "conspicuously posted signs indicating that the presence of unauthorized persons is proscribed satisfies the statute." Md. Code Ann. Criminal Law 6-402 clarifies that "paint marks" are sufficient when they conform with regulations that the Department of Natural Resources adopts and are made on trees or posts that are located at each road entrance to the property and adjacent to public roadways, public waterways, and other land adjoining the property. See COMAR 08.01.05.01 for the proper requirements of a "paint mark" with regard to trespassing.
Baltimore County, MD Trespassing Attorney
Contact our office to schedule a consultation with an experienced criminal defense attorney if you have been charged with trespassing. During a consultation, you and our principal attorney will review the facts of your case and discuss possible defenses to avoid a conviction altogether or actions that you may take to avoid some of the consequences of a conviction.
Mr. Shepard is an awesome attorney! When I first was charged with theft, I was scared of what could happen to me. I called Mr. Shepard's office and he saw me on a Saturday for a free consultation. Speaking with him immediately put my nerves at ease. He was knowledgeable, compassionate, asked the right questions, and seemed to genuinely care about me and my case. I hired Mr. Shepard on the spot. Prior to my court date, Mr. Shepard kept me informed about my case and never left me in the dark. On my court date, my case ended up going to trial and it was clear that Mr. Shepard had done his homework and was well prepared because we won. I cannot thank Mr. Shepard enough for all he did to help me and I highly recommend him.
I enjoyed working with Mr Shepard, he always made it a point to keep me well informed about my case, took time to discuss details, and was prompt in his responses. He gave accurate information and made all the necessary contacts to get the job done. His attention to detail helped me immensely for my case. I highly recommend him, you will not be disappointed.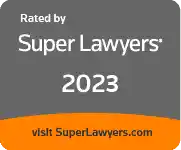 Super Lawyers "Rising Star" 2023 Honoree
Super Lawyers is a rating service of lawyers from more than 70 practice areas who have attained a high-degree of peer recognition and professional achievement. The patented selection process includes independent research, peer nominations, and peer evaluations. To read more about the Super Lawyers selection process, click here.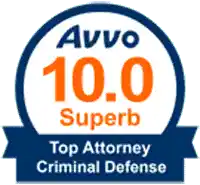 Avvo Rated 10.0 for Criminal Defense
Avvo is one of the leading attorney directory listing services on the web. Avvo has ratings, reviews, and disciplinary records for lawyers in nearly every state. Avvo rates attorneys using a model that considers information that the attorney has included on their profile in addition to the information that Avvo collects from state bar associations and other organizations that license legal professionals. To read more about the Avvo rating system, click here.